Announcement!
Please be advised that the John C. Storms Museum will be closed until further notice due to renovation. Please check here or our Facebook page for information regarding the re-opening of the museum, and for upcoming programs and special events.
Thank you for your patience and support.
This Quarter at PHS…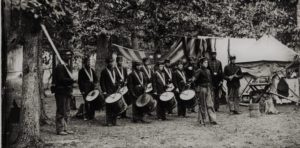 "Military Bands of the Civil War"
a lecture by Edmund Moderacki
SUNDAY, July 15 at 2 p.m.
Free admission
Ed Moderacki, River Vale's Municipal Historian and the conductor of the popular Waldwick Band, will discuss the role, organization, and instrumentation of military bands serving with Civil War military units. In particular, he will relate the story of the band of the 22nd New Jersey Regiment, the only regiment raised for Union service from Bergen County during the Civil War. The program will have recordings of typical band music of the period along with photographs of bands and instruments.
A small exhibit in Berdais Hall will feature memorabilia from the 22nd New Jersey Regiment. The exhibit is created by David Moskowitz, PHS curator of militaria. The cornerstone of this exhibit is an 1861 Springfield rifle-musket that belonged to Henry G. Demarest of Englewood, who served with the 22nd Regiment.
The program is suitable for all ages and children are welcome when accompanied by an adult. A Q&A will follow the talk and the Society's trustees will provide refreshments.
This is one not to be missed! 
Other Educational Materials
VISIT EAGLE SCOUT  DANIEL TALLMAN'S HISTORICAL TRAIL OF PARK RIDGE BY CLICKING THE LINK TITLED "PARK RIDGE HISTORICAL TRAIL" BELOW
From Pascack To The Plains: The Story Of Campbell Wampum
EDUCATION & RESEARCH CENTER
MUSEUM
HISTORICAL SOCIETY

We are a regional educational and research center that tells the story of life in the Pascack Valley from dinosaur times to the present day.

The Society's newsletter, RELICS, is mailed to our members four times a year and is now indexed by title on the "Relics Index" page of this website.

The Pascack Historical Society Museum is open all year long. We offer educational and enrichment programs for all age groups- tiny tots to senior citizens. Our barrier-free Museum is the home of thousands of artifacts and many displays that chronicle the life of the Pascack Valley from Lenape Indian days until the present. Special exhibits take place throughout the year on subjects pertaining to the origins of the people of northern New Jersey.

PUBLIC HOURS:
Wednesday: 10 a.m. to 12 p.m.
Sundays: 1 p.m. to 4 p.m.
Admission is free. Donations accepted.

Special group tours at other hours may be arranged by calling (201) 573-0307.

We are located at 19 Ridge Avenue in Park Ridge, NJ.

P: (201)-573-0307
E: info@pascackhistoricalsociety.org

The Pascack Historical Society is a 501(c)(3) organization that was incorporated on October 13, 1942 by a group of historically minded citizens. It is a membership-based not for profit organization that promotes and preserves the early history of the Pascack Valley and its peoples.

We have NEVER had a paid employee, and we think that is a remarkable accomplishment. The Pascack Historical Society  receives no regular government funding and relies on membership dues and donations to keep our boat afloat. Your donations are always appreciated and welcome.