Due to renovation, the John C. Storms Museum will be closed until further notice. Please check our website, www.pascackhistoricalsociety.org, or facebook page for information on our upcoming programs, special events and the exciting reopening of our newly renovated museum.
Thank you for your patience and support.
================================================================================
COLONIAL SLIPWARE POTTERY WORSHOP FOR KIDS THURSDAY, NOVEMBER 9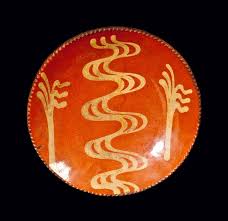 Looking for some fun for your children to do during the upcoming teacher's convention school holiday? Go no further than the Pascack Historical Society's "Colonial Slipware Pottery Workshop"– a program designed for children ages 6-10 on Thursday, November 9, 1-3 P.M, 19 Ridge Avenue, Park Ridge.
A donation of $5.00 per child is asked to cover costs of materials.
During Colonial times pottery makers in Bergen County were busy making and selling slipware, a term that describes earthen ware that is decorated by painting on one clay body with a liquid clay of another color. Each child will make and take home a decorated slipware plate of their own design. They will also learn about how the Lenape Indians used clay and how abundant it was on the banks of many Pascack Valley streams.
Assisting retired art educator Barbara Farina of River Vale who will teach the class, will be Trustees Danarenae Donato, and retired licensed NJ teachers Carol Riccardo, Gioia Castiglione and George Sherman.
Caregivers and parents are welcome to stay throughout the event. For further information about the Society, directions or this program log onto www.pascackhistoricalsociety.org .
== =============================================================
VISIT EAGLE SCOUT DANIEL TALLMAN'S HISTORICAL TRAIL OF PARK RIDGE BY CLICKING THE LINK TITLED "PARK RIDGE HISTORICAL TRAIL" BELOW
=================================================================
BROWNIES VISIT
PHS volunteers welcomed 19 Brownies from Hillsdale to the museum on November 18th. The troop spent the afternoon learning about the Lenape Indians through interactive activities and exhibits. They also received a tour of the museum's exhibits to learn about early Dutch and Victorian everyday life and houses.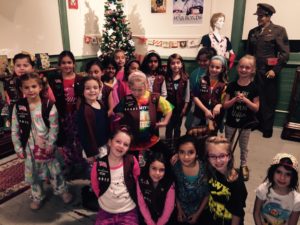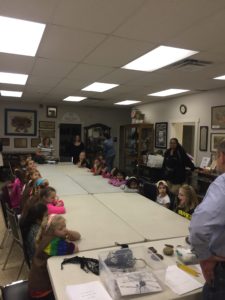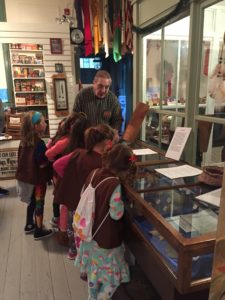 =============================================
Watch Our Latest Video!
From Pascack To The Plains: The Story Of Campbell Wampum
=================================================================
EDUCATION & RESEARCH CENTER
MUSEUM
HISTORICAL SOCIETY

We are a regional educational and research center that tells the story of life in the Pascack Valley from dinosaur times to the present day.

The Society's newsletter, RELICS, is mailed to our members four times a year and is now indexed by title on the "Relics Index" page of this website.

The Pascack Historical Society Museum is open all year long. We offer educational and enrichment programs for all age groups- tiny tots to senior citizens. Our barrier-free Museum is the home of thousands of artifacts and many displays that chronicle the life of the Pascack Valley from Lenape Indian days until the present. Special exhibits take place throughout the year on subjects pertaining to the origins of the people of northern New Jersey.

PUBLIC HOURS:
Wednesday: 10 a.m. to 12 p.m.
Sundays: 1 p.m. to 4 p.m.
Admission is free. Donations accepted.

Special group tours at other hours may be arranged by calling (201) 573-0307.

We are located at 19 Ridge Avenue in Park Ridge, NJ.

P: (201)-573-0307
E: info@pascackhistoricalsociety.org

The Pascack Historical Society is a 501(c)(3) organization that was incorporated on October 13, 1942 by a group of historically minded citizens. It is a membership-based not for profit organization that promotes and preserves the early history of the Pascack Valley and its peoples.

We have NEVER had a paid employee, and we think that is a remarkable accomplishment. The Pascack Historical Society receives no regular government funding and relies on membership dues and donations to keep our boat afloat. Your donations are always appreciated and welcome.

Funding has been made possible in part through grant funds administered by the Bergen County Department of Cultural and Historic Affairs, Department of Parks, through a general operating support grant from the New Jersey Historical Commission, a division of the Department of State.