VISIT EAGLE SCOUT CANDIDATE DANIEL TALLMAN'S HISTORICAL TRAIL OF PARK RIDGE BY CLICKING THE LINK TITLED "PARK RIDGE HISTORICAL TRAIL" BELOW
=================================================================
MUSEUM IS OPEN WEDNESDAYS 10-12 AND SUNDAYS 1-4
=================================================================
The Pascack Historical Society is celebrating its upcoming 75th anniversary year by offering the public a free copy of its latest 12-page quarterly membership newsletter, RELICS, through November 15.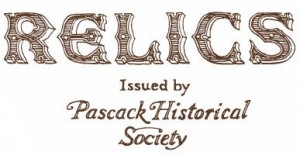 The well-known publication, which has been published continually since making its debut in September of 1955, is in the permanent collections of many libraries and historical societies throughout the United States, including the National Archives in Washington, D.C.
The September 2016 issue's front-page story, The Mystery of Madame Gaudin tells the story of a French transplant to Hillsdale, who was earning a meager living as a seamstress, when in 1896 she learned that she was to inherit $17 million ($450 million today) from a deceased French relative's estate. Gaudin lived on Columbus Avenue (off Broadway) which is the dividing line between Hillsdale and Woodcliff Lake.
Readers will also enjoy perusing the poignant story of the decades long plight to win women the vote. The article highlights a major anti-suffrage lecture given by Cook Conkling in Park Ridge's Forester Hall on October 18, 1915.
In addition to information about the Society, its activities, programs and upcoming events, this issue also includes a column entitled The Answer Girl. There you can find some answers to historical questions about the Pascack Valley that have been submitted by our readers.
To receive a free newsletter, stop in at the Society's barrier-free museum, 19 Ridge Avenue, Park Ridge on Wednesdays from 10 a.m. until 12 p.m. or Sundays from 1-4 p.m.  Or e-mail phsanswergirl@optimum.net
=======================================================
Watch Our Latest Video!
EDUCATION & RESEARCH CENTER
MUSEUM
HISTORICAL SOCIETY

We are a regional educational and research center that tells the story of life in the Pascack Valley from dinosaur times to the present day.

The Society's newsletter, RELICS, is mailed to our members four times a year and is now indexed by title on the "Relics Index" page of this website.

The Pascack Historical Society Museum is open all year long. We offer educational and enrichment programs for all age groups- tiny tots to senior citizens. Our barrier-free Museum is the home of thousands of artifacts and many displays that chronicle the life of the Pascack Valley from Lenape Indian days until the present. Special exhibits take place throughout the year on subjects pertaining to the origins of the people of northern New Jersey.

PUBLIC HOURS:
Wednesday: 10 a.m. to 12 p.m.
Sundays: 1 p.m. to 4 p.m.
Admission is free. Donations accepted.

Special group tours at other hours may be arranged by calling (201) 573-0307.

We are located at 19 Ridge Avenue in Park Ridge, NJ.

P: (201)-573-0307
E: info@pascackhistoricalsociety.org

The Pascack Historical Society is a 501(c)(3) organization that was incorporated on October 13, 1942 by a group of historically minded citizens. It is a membership-based not for profit organization that promotes and preserves the early history of the Pascack Valley and its peoples.

We have NEVER had a paid employee, and we think that is a remarkable accomplishment. Although the Pascack Historical Society received an operating support grant from the New Jersey Historical Commission, a division of the Department of State, we receive no regular government funding and rely on membership dues and donations to keep our boat afloat. Your donations are always appreciated and welcome.