Announcement!
Thanks to all your patience and support, we are proud to finally announce the re-opening of the John C. Storms Museum! October 12, 2019, will be our ribbon cutting and proper reopening activities, and October 13, 2019, will be a regularly scheduled open day with some activities planned. Please check here, or our Facebook page, for information regarding the museum, and for upcoming programs and special events. Thank you for your patience and support.

PUBLIC HOURS*:
Wednesday: 10 a.m. to 12 p.m.
Sundays: 1 p.m. to 4 p.m.
Admission is free. Donations accepted.
*Special group tours outside public hours may be arranged by appointment.
P: (201)-573-0307
E: info@pascackhistoricalsociety.org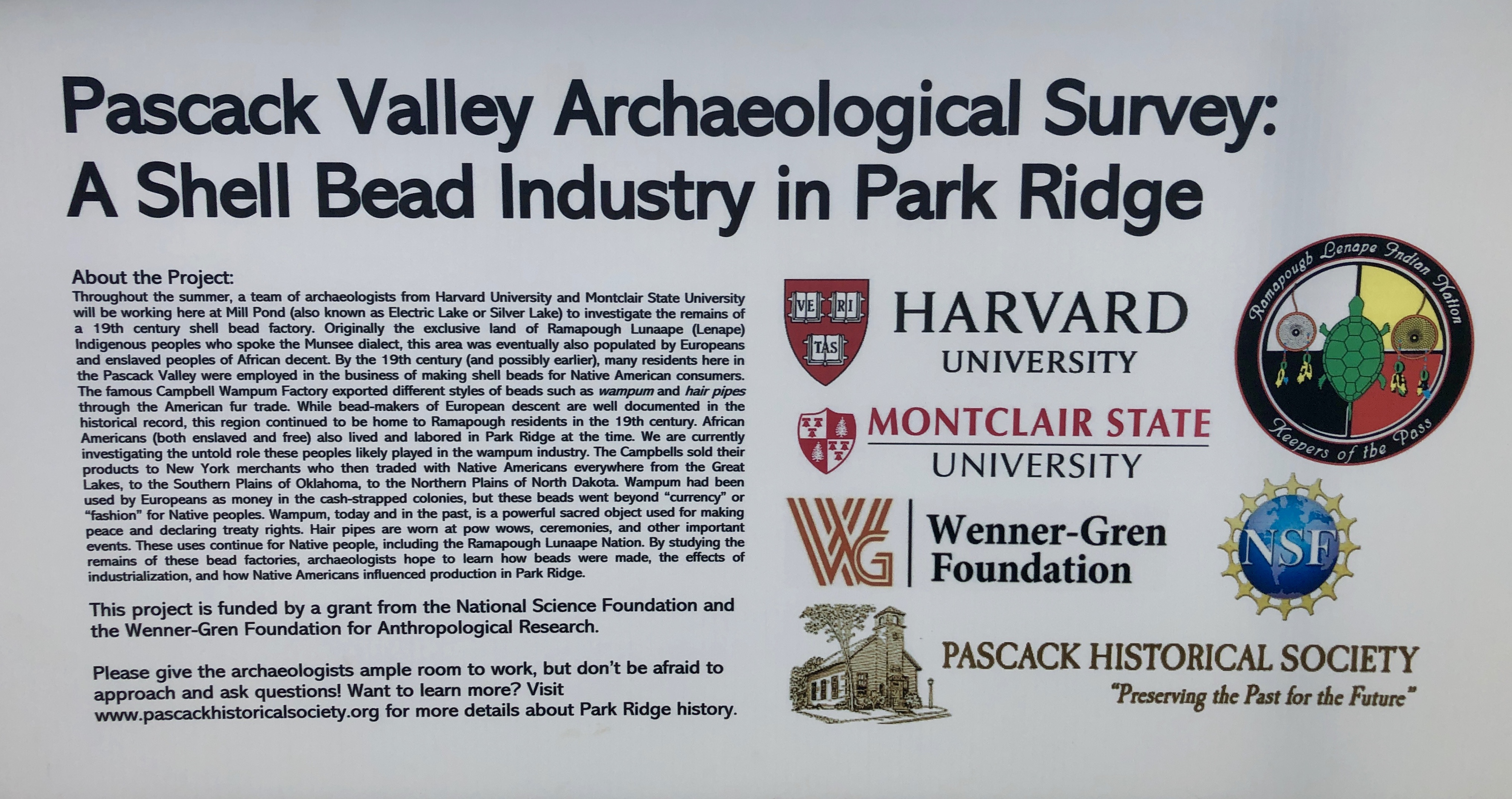 We are pleased to be a part of history in the making. Harvard University Anthropology Ph.D. candidate Eric Johnson has begun an archeological dig project in Park Ridge. His research is on The history of the Wampum Shell industry in Pascack Valley and its cultural significance. Eric will be at various locations throughout town centered near Mill Pond/Electric Lake and will take visits and questions from the public on Saturdays from 1-3. Please visit to learn more about archeology!
If you would like further information on the Campbell Family or Wampum please visit our website pascackhistoricalsociety.org or contact Eric at ericjohnson@g.harvard.edu.

Next at PHS…

Educational Materials
Visit Eagle Scout Daniel Tallman's Historical Trail of Park Ridge. Research support provided by Pascack Historical Society. 
Please watch our educational video on the history of Pascack Wampum; From Pascack To The Plains: The Story Of Campbell Wampum. Research compiled from the Pascack Historical Society Ephemera collection and primary source accounts. To view such information, please make an appointment, and a donation is appreciated.