Announcement!
Thanks to all your patience and support, we are proud to finally announce the re-opening of the John C. Storms Museum! October 13, 2019, will be our ribbon cutting and proper reopening activities, and October 14, 2019, will be a regularly scheduled open day with some activities planned. Please check here, or our Facebook page, for information regarding the museum, and for upcoming programs and special events.
Thank you for your patience and support.
This Quarter at PHS…
LECTURE ON ROBERT ERSKINE, MAPMAKER TO GEORGE WASHINGTON
          During the Revolutionary War, the work of Robert Erskine was one of the closest things to George Washington's heart. Actually, Washington carried many of General Erskine's maps in his breast pocket. Erskine's detailed maps skillfully guided Washington and his army throughout the northeast and beyond.
Erskine arrived in the colonies as an industrial loyalist to manage the iron mines of Ringwood. However, he died as an ardent defender of American freedom. His ascent from British mine-master to the general in charge of mapmaking for the American Revolution may sometimes be forgotten. But today his work is alive as his maps continue to reveal incredible information about our heritage, our land, and our roads.
Learn more about Robert Erskine and his legacy at the Pascack Historical Society on Sunday, March 10 at 2 p.m., when William "Billy" Neumann presents his talk, "Robert Erskine F.R.S: Minemaster and Mapmaker for the American Revolution."
The museum is located at 19 Ridge Ave., Park Ridge. Admission to the program is free, and complimentary refreshments will be provided by the Society's volunteers. A Q&A will follow the talk.
William "Billy" Neumann is a popular historian with three books on local history.  Billy is the current chair of Bergen County's Historic Preservation Advisory Board and heads the Outreach Committee of Preservation New Jersey. He is the third generation to haunt his family's 1870s farmhouse in Rutherford. For over 30 years Neumann has worked in New York City and New Jersey as a commercial photographer. He is a beekeeper and a longtime volunteer for Habitat for Humanity.
For additional information on the Pascack Historical Society or any of its programs, log onto www.pascackhistoricalsociety.org, email info@pascackhistoricalsociety.org or follow the museum on Facebook.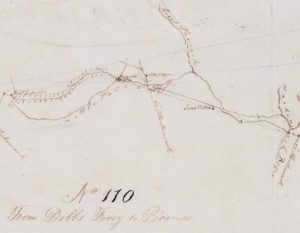 CAPTION:
This 1780 Robert Erskine map would have been invaluable when George Washington's troops were encamped that summer at Kinderkamack, present-day Emerson. The map shows the Pascack Brook and landmarks such as Bogert's Mill in Westwood and the Jacob DeBaun farmhouse that stood on Old Hook Road in Emerson. Long before those municipalities existed, during Erskine's time the region was part of New Barbadoes (from 1710) and then Harington Township (from 1775).
Educational Materials
Visit Eagle Scout Daniel Tallman's Historical Trail of Park Ridge. Research support provided by Pascack Historical Society. 
Please watch our educational video on the history of Pascack Wampum; From Pascack To The Plains: The Story Of Campbell Wampum. Research compiled from the Pascack Historical Society Ephemera collection and primary source accounts. To view such information, please make an appointment, and a donation is appreciated.
EDUCATION & RESEARCH CENTER
MUSEUM
HISTORICAL SOCIETY

We are a regional educational and research center that tells the story of life in the Pascack Valley from dinosaur times to the present day.

The Society's newsletter, RELICS, is mailed to our members four times a year and is now indexed by title on the "Relics Index" page of this website.

The Pascack Historical Society Museum is open all year long. We offer educational and enrichment programs for all age groups- tiny tots to senior citizens. Our barrier-free Museum is the home of thousands of artifacts and many displays that chronicle the life of the Pascack Valley from Lenape Indian days until the present. Special exhibits take place throughout the year on subjects pertaining to the origins of the people of northern New Jersey.

PUBLIC HOURS:
Wednesday: 10 a.m. to 12 p.m.
Sundays: 1 p.m. to 4 p.m.
Admission is free. Donations accepted.

Special group tours at other hours may be arranged by calling (201) 573-0307.

We are located at 19 Ridge Avenue in Park Ridge, NJ.

P: (201)-573-0307
E: info@pascackhistoricalsociety.org

The Pascack Historical Society is a 501(c)(3) organization that was incorporated on October 13, 1942 by a group of historically minded citizens. It is a membership-based not for profit organization that promotes and preserves the early history of the Pascack Valley and its peoples.

We have NEVER had a paid employee, and we think that is a remarkable accomplishment. The Pascack Historical Society receives no regular government funding and relies on membership dues and donations to keep our boat afloat. Your donations are always appreciated and welcome.