"HARVEST HAPPENINGS"
CHILDREN'S ENRICHMENT PROGRAM AT MUSEUM
Looking for some fun for your children to do the last days of summer? Go no further than the Pascack Historical Society's "HARVEST HAPPENINGS" – a hands-on program designed for children Grades 2-5. This popular program is offered on Wednesday August 30, 1:30-3:00 P.M. Seating is limited. Registration is required.
Donation of $5 per child to cover materials. Call PHS President George Sherman at 201-664-7924.
Children will learn how early Pascack Valley farmers and their families long ago celebrated the harvesting of their crops which began in early August each year. People gathered together to give thanks and celebrated by singing, dancing, having various contests and prizes, small parades and playing games. They had a harvest food feast, as many farmers still do today, by eating some of their crops, meat and fish products.
Youngsters will be taught a "special science trick"- the results of which produce good old- fashioned "slime", which they may take home. Other activities will include outdoor activities of rolling hoops, ring toss game, and a paper airplane contest. Indoors activities will include Jack Straws (pick-up sticks), ball in the cup and kaleidoscope viewing. Children will listen to stories and paint hats that they will take home.
The goal of the program, presented by Pascack Adventures, the educational arm of the not-for-profit Society, is to expand children's knowledge of the way people lived long ago in the Pascack Valley. Attendees and their families may enjoy complimentary cookies and juice. Carol Riccardo, George Sherman, and Gioia Castiglione, all licensed New Jersey teachers, will teach and volunteer their time for this program. They will be assisted by PHS Trustee Danarenae Donato. Parents are welcome to stay throughout the event.
REMEMBERING HARVEST HAPPENINGS 2016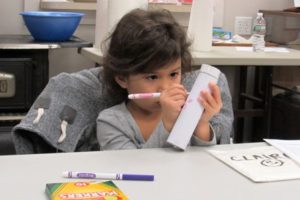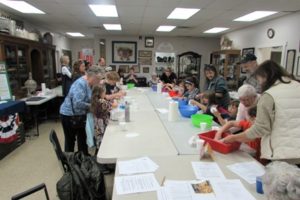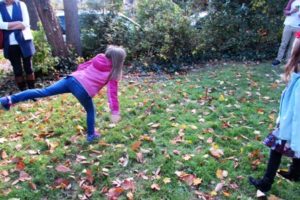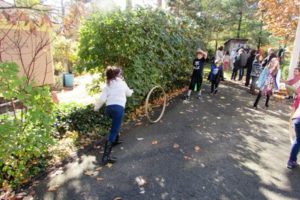 == =============================================================
VISIT EAGLE SCOUT DANIEL TALLMAN'S HISTORICAL TRAIL OF PARK RIDGE BY CLICKING THE LINK TITLED "PARK RIDGE HISTORICAL TRAIL" BELOW
=================================================================
BROWNIES VISIT
PHS volunteers welcomed 19 Brownies from Hillsdale to the museum on November 18th. The troop spent the afternoon learning about the Lenape Indians through interactive activities and exhibits. They also received a tour of the museum's exhibits to learn about early Dutch and Victorian everyday life and houses.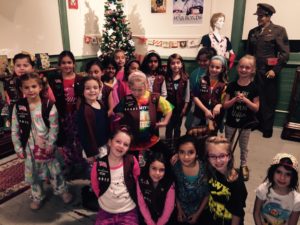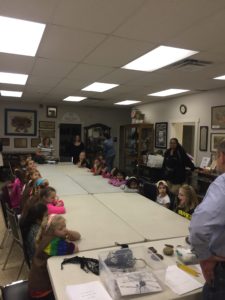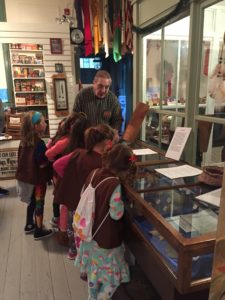 =============================================
Watch Our Latest Video!
From Pascack To The Plains: The Story Of Campbell Wampum
=================================================================
EDUCATION & RESEARCH CENTER
MUSEUM
HISTORICAL SOCIETY

We are a regional educational and research center that tells the story of life in the Pascack Valley from dinosaur times to the present day.

The Society's newsletter, RELICS, is mailed to our members four times a year and is now indexed by title on the "Relics Index" page of this website.

The Pascack Historical Society Museum is open all year long. We offer educational and enrichment programs for all age groups- tiny tots to senior citizens. Our barrier-free Museum is the home of thousands of artifacts and many displays that chronicle the life of the Pascack Valley from Lenape Indian days until the present. Special exhibits take place throughout the year on subjects pertaining to the origins of the people of northern New Jersey.

PUBLIC HOURS:
Wednesday: 10 a.m. to 12 p.m.
Sundays: 1 p.m. to 4 p.m.
Admission is free. Donations accepted.

Special group tours at other hours may be arranged by calling (201) 573-0307.

We are located at 19 Ridge Avenue in Park Ridge, NJ.

P: (201)-573-0307
E: info@pascackhistoricalsociety.org

The Pascack Historical Society is a 501(c)(3) organization that was incorporated on October 13, 1942 by a group of historically minded citizens. It is a membership-based not for profit organization that promotes and preserves the early history of the Pascack Valley and its peoples.

We have NEVER had a paid employee, and we think that is a remarkable accomplishment. The Pascack Historical Society receives no regular government funding and relies on membership dues and donations to keep our boat afloat. Your donations are always appreciated and welcome.