Society members receive four copies of RELICS a year. The well-known publication, which has been published continually, since it made its debut in September of 1955, is in the permanent collections of many libraries and historical societies throughout the United States, including the National Archives in Washington, D.C.Each issue is filled with local history, vintage photographs and a variety of other interesting historical topics.
As we begin another school year, we thought you might like to peruse a 2015 article that describes school days in Pascack over 200 years ago. (Right click on the image for an enlarged version in a new tab.) 
Another issue from 2009 contains a story about a 1776 letter we found in a box in our attic.
We hope you enjoy reading our popular publication.
Click to View > > Reaching Back in Time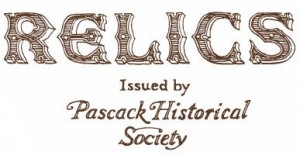 Below are a few more Selected Relics articles:
May 2012 – Park Ridge's Little Drummer Boy >
Nov. 2012 – Operation Paper Clip and Montvale >