PROGRAMS FOR SMALL GROUPS, SCHOOLS AND COMMUNITY ORGANIZATIONS
MUSEUM VISITS
To plan museum visits, or to learn about programs for your school contact George Sherman, Education Coordinator, at (201) 664-7924 or email glsjr2@optonline.net.
Our museum is Handicap Accessible.
HISTORY HIGHWAY 
Our trained volunteers visit nursing homes and assisted living centers to educate and entertain the residents.  Each program is tailor-made according to the area of interest requested.  Artifacts are brought for residents to touch and identify.  Free. Donations happily accepted
HAVE TRUNK-WILL TRAVEL 
A traveling program geared toward school age youngsters. Each program is tailor-made by our volunteers, who are all licensed New Jersey teachers.
Programs are developed with the input of the students' teachers so as to correlate with New Jersey Core Curriculum Content Standards and the students' specific area of study. Hands-on activities are provided whenever possible. Free. Donations happily accepted.
SPEAKER'S BUREAU
Society volunteers speak to groups on a variety of local historical subjects. Free.
PASCACK ADVENTURES
A year-round on-site program for children in grades 2 through 6 featuring age appropriate events.  Now in its tenth year, it is administered by a former teacher and school principal, assisted by five licensed public school teachers.  The varied programs range from the making of clay pots to participating in a mock archaeological dig.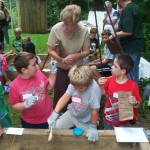 YOUNG  HISTORIANS
High school and/or college students with a passion for history are invited to apply to the Society as volunteer interns. With much to learn and much to do, our young interns have benefited not only themselves, but the Society and the community for nearly 10 years.