FREE COPY OF HISTORICAL SOCIETY NEWSLETTER
  The Pascack Historical Society is currently offering the public a free copy of its latest 16-page quarterly membership newsletter, RELICS. The well-known publication, which has been published continually, since it made its debut in September of 1955, is in the permanent collections of many libraries and historical societies throughout the United States, including the National Archives in Washington, D.C.   The November 2012 issue's front-page story, "Operation Paper Clip and Montvale" , written by PHS member Philip Accardi of Simsbury, Connecticut, tells the fascinating story of Dr. Marie Feldman, a Russian immigrant who lived in Montvale in the 1940s.  Her home ,on Grand Avenue , served as a secret receiving station for many German rocket scientists, including Dr. Werner von Braun, who defected to America near the end of World War II.  Read about how six-year old Philip Accardi met Dr. von Braun in the living room of  that Montvale home. Another story  tells the background of a poll tax levied on a 1903 tax bill for "Hillsdale Township", twenty years before it became a borough. To receive a free newsletter stop in at the Society's barrier-free museum, 19 Ridge Avenue, Park Ridge on Wednesdays from 10 a.m. until 12 p.m. or Sundays from 1-4 p.m.  Or call RELICS editor Francesca M. Moskowitz at 201-666-0121 to have one mailed to your home.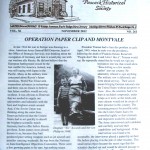 =======================================================================
WHEN ARE YOU OPEN???
Don't say you forgot the Museum's regular visiting hours!! They are posted on our front lawn in living color for all to see. Trustee Bob Breitenbach made this nifty new lawn display case.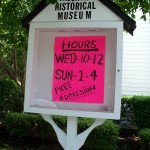 =======================================================================
Pascack Valley Tales II
The Pascack Historical Society's publication – Pascack Valley Tales II – edited by Katharine P. Randall of Hillsdale, is available for sale at the museum, 19 Ridge Avenue, Park Ridge, on Wednesdays from 10:00 a.m. until noon and on Sundays from 1:00 until 4:00 p.m.This limited edition 176-page soft cover book is also available at Shaw's Book shop, 267 Center Avenue in Westwood. The attractively bound book contains more than 70 entertaining and historic stories and photographs about the eight towns (Hillsdale, Westwood, Woodcliff Lake, Emerson, Montvale, River Vale, Township of Washington, Park Ridge) that comprise the Pascack Valley. The text and content are suitable for all ages. Stories range from intriguing tales of local activities during the Revolutionary War to surprising events in the 20th century. The book can be purchased for $20.00 a copy and is available for mailing for an additional $3.00 fee. For further information call 201-573-0307 or 201-666-012, or you may e-mail info@pascackhistoricalsociety.org.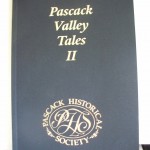 =======================================================================
Founder's Day a Big Draw
Eighteen month old Brian Chavez of Hasbrouck Heights, held by his mother Linda, was one of almost 100 visitors who attended our April 29th Founders' Day celebration and exhibit. Here Brian gazes at the itchy woolen coat he would have worn if he were growing up in 1942, the year the Society was incorporated. The handsome little fellow's grandparents live in Hillsdale. Trustee Helen Whalen coordinated the successful event. Trustee Bob Mathez lends a helping hand with the 1942 artifacts on display. Below, PHS volunteer Mary Sheerins of Park Ridge, right, donates 10 cents to receive a long hot dog "with the works" from kitchen volunteers Grace Wohn, left, and Jackie Martin of Westwood. (Both cooks are Society Trustees.) The "Dime-A-Dog" feature was a huge success. The low donation amount was determined by the price of a hot dog at Yankee Stadium in 1942.