Welcome To Our Gift Shop
Everything for sale on our shelves has been donated* by members and friends of the Society. You will find one-of-a-kind items, vintage and costume jewelry, china, art works, dolls, paper weights, history and art books, periodicals, magazines, silver, ceramics, map reproductions, postcards, antique tools, glassware, small furniture and odds and ends of every sort for old and young alike.
Our stock changes on a weekly basis because of our donor base. We never know who, or what, will come through the front door! That is part of the fun of discovery when you visit the Gift Shop on a regular basis.
One of our most popular items is our award winning publication-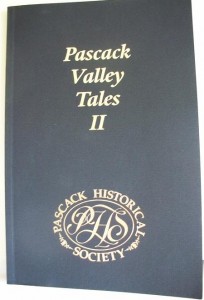 Pascack Valley Tales II – edited by PHS Trustee Katharine P. Randall.
This 176-page paperback book has stories highlighting every town in the Pascack Valley. It makes a wonderful graduation or holiday gift.
$20.00 a copy. For an extra $8.00 we will gift wrap it and mail a book to anywhere in the USA with a personalized card inside from the buyer.
Stop by during regular visiting hours. Wednesdays from 10a.m.-noon and Sundays from 1 to 4 p.m.
*If you have any family treasures you might like to donate, give us a call at 201-573-0307 to discuss. Should email be a more convenient method of communication, our email address is info@pascackhistoricalsociety.org. Your donation will be tax deductible to the full extent the law allows. We are a 501 ( c ) 3 organization and EVERY PENNY goes directly into operating expenses. We have no employees so there are never administrative expenses!