Just Around the Corner…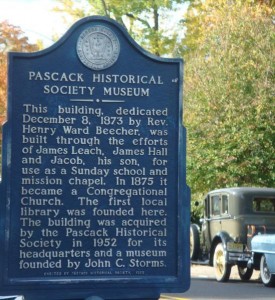 The John C. Storms Museum and Ellen Berdais Hall are both located in the headquarters of the Pascack Historical  Society at 19 Ridge Avenue, Park Ridge, New Jersey.
The Society began as a small group of local residents led by John C. Storms (1869-1962) who, with his brother James, had amassed a large collection of historical items of every nature.
From 1938, they met over a period of many months discussing the area's history and making plans for its permanent preservation. It was on October 13, 1942, that the Certificate of Incorporation was signed and executed.  (By its Charter, it will always remain a free-admission museum, where everyone is welcome.)
The volunteers met at various places throughout their planning stage. In 1952, the Society purchased its present home from the Congregational Church for the sum of $5,500 subscribed by more than 200 persons who realized the unique value of establishing a permanent historical museum in the Pascack Valley.
Since that time the museum has remained an all volunteer organization. We have never had a paid employee since our inception. We think that is a remarkable feat. Our most difficult task is annually raising the money needed to keep our doors open.
Our members and the modest dues they pay are the lifeblood of the Society. We hope you will enjoy our website and visit out museum in person very soon. There is no denying that the technological age we are living in (computers, digital libraries, etc.)is a marvelous time. But we hold steadfast to the opinion that nothing can replace the experience of seeing and touching the past up front and personal.
We invite you to visit us soon and hope you might consider joining us in the future.
Board of Trustees (2018-2019)
Officers
President – Jacqueline A. Martin
Vice President – Kristin Beuscher
Second Vice President – Thomas J. Norton, DD
Secretary – Barbara Bober
Treasurer – David M. Moskowitz, P.E.
Trustees
Gioia Castiglione
Danarenae Donato
Robert Mathez
Marilyn A. Miller, M.D.
Francesca M. Moskowitz*
Katharine P. Randall*
H. Carol Riccardo*
George L. Sherman, Jr. *
William Smith
Joseph M. Treanor
Helen Whalen
Grace Wohn
*Indicates Past President

Corporate Advisory Board
Edward Feins, DMD – Co-Chairman
Martin O. Seitz- co chairman
Historical Advisory Board
Anthony Troncone, Ph.D. – Chairman
William "Pat" Schuber, Esq.
C.F. William Maurer
Historic Preservation Board
William A. Martin, RA, AIA – Chairman
Jonathan Pearlman, RA