2013 CURIOSITY SALE – A HUGE SUCCESS!!
MANY THANKS TO ALL THOSE WHO SUPPORTED OUR CURIOSITY SALE IN ONE WAY OR ANOTHER. THANKS TO YOUR GENEROSITY AND ASSISTANCE, THE SALE PROVED TO BE OUR MOST SUCCESSFUL IN YEARS!
=================================
Stones & Bones

Eighteen happy kids had fun digging up some "Stones and Bones" on
Thursday, August 8, 2013 while learning a little something about archaeology.
=================================
To say that Dr. Troncone's talk was a success on Sunday, June 30, 2013 is a colossal understatement as there were nearly 100 people there for this greatly anticipated presentation by one of the Society's premier speakers. Another dozen or so had to be turned away since Berdais Hall didn't even have standing room available. PHS Trustee Pete Hard, dressed in full Union uniform, added a special extra to the whole occasion as did our 35 star flag, wonderful Civil War fruitcake, brownies and other refreshments. The Society made lots of new friends today too as extensive publicity brought people from all corners of the county. Electronic bulletin board in town certainly helped a lot as well. To all who took part, thank you for your support. (A recipe for PHS' famous Civil War fruitcake is seen below. Click on the image and it will enlarge so that you can read it easily.)
=================================
Speak Antique Part II
June 9, 2013 was an antique lover's delight at the Pascack Historical Society Museum as Society Trustee and Curator Bob Mathez presented the second in a series of three programs entitled "Speak Antique" to an appreciative audience. Mr. Mathez, who is a furniture restorer by profession, gave an inspired talk that met with the approval of both novice and veteran collectors. Be sure to look for the third program in the series which will be presented later this year.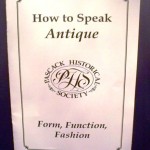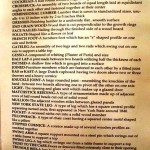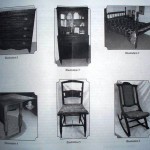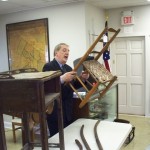 =================================
Walk Through History
Society volunteers welcomed West Ridge 4th graders to the museum on Thursday, June 6, 2013, during the school's annual "Walk Through History". While half of the 59 children were in the museum, the other contingent played the role of "history detectives" in Berdais Hall. After 45 minutes the groups traded places so that everyone had the chance to find out about the museum and the history of the Pascack Valley. Groups who would like to arrange a private tour of the museum should call 201-664-7924 to arrange for a date.
=================================
Preservation of the Past for the Future 
On June 2, 2013 the Pascack Historical Society was pleased to present its first annual Preservation of the Past for the Future Award to Sgt. Sean Smith of  Hillsdale  for his masterly effort at researching, writing and publishing a 400 page history of the Hillsdale Police Department from its founding in 1898 until 1979. President Ed Martine, and PHS Historical Advisory Board members William Martin and Dr. Anthony Troncone spoke glowingly of this major contribution to the history of the Pascack Valley and of the thoroughness of Sgt. Smith's work. Numerous retired members of the Hillsdale police spoke of Sgt. Smith's dedication to the force and to the community he serves and made note of the fact that this work will allow anyone who consults it to get a firm understanding of the evolution of the Hillsdale force, the community it protects and the changes that have taken place in police work through the years. The Society is incredibly proud of the work Sgt. Smith has done and to have a copy of his book now in our collection.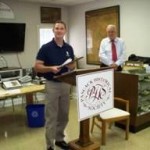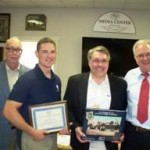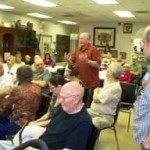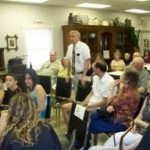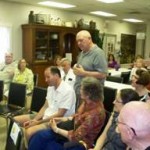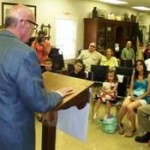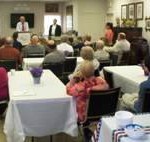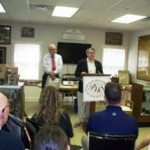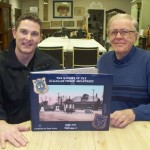 =================================
When Irish Eyes Are Smiling
A wonderful time was had by all on Sunday, March 17, 2013 at the Society's St. Patrick's Day event entitled "When Irish Eyes Are Smiling". Numerous visitors from throughout the area enjoyed viewing the museum's collection of lace while listening to Irish music and indulging in Irish tea and homemade cake.
If you were unable to attend on the 17th, we'll do the event once again on Sunday March 24 between the hours of 1:00 and 4:00. Hope to see you then.
=================================
Tiger Cubs Visit
On Sunday, February 24, 2013 a group of Tiger Cubs from St. John's School in Hillsdale and their parents were given a tour of the museum by Trustees George Sherman and Marie Hennesey. A good time was had by all.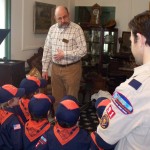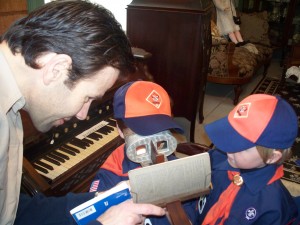 =================================
PHS Chairman Bob Mathez Speaks Antique Part I
"How to Speak Antique", a program devised by Trustee Bob Mathez, was met with great enthusiasm by an appreciative audience at the Historical Society Museum on Sunday, February 17. Be sure to save the date – June 9 – when our "Chair-Man" Bob will present Part II.