Making Cornbread and Butter the Old Fashioned Way

On Sunday, November 18, 2012 PHS volunteers welcomed 10 youngsters in grades K-3 to the museum for an afternoon of Colonial Cooking. Trustee Jackie Martin of Westwood led the way, teaching the children how to make butter and corn bread the old-fashioned way. Girls wore traditional Colonial "mop caps" and boys wore tri-corner hats made of paper.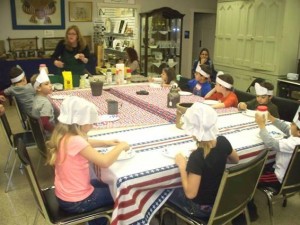 As a jar filled with heavy cream was passed from child to child for a "shake", it thickened. Within 20 minutes, it became rich creamy butter. The remaining liquid in the jar – buttermilk.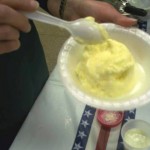 While shaking the jar of heavy cream, youngsters learned that the Lenape Indians introduced the Jersey Dutch to maize (corn). Indian corn was not the yellow corn we know today. It was multicolored, dried and then ground into flour. Participants soon were ready to bake their corn muffins.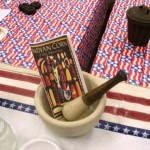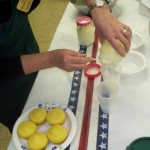 Once the muffins were ready, Trustee Marie Hennesey assisted mothers as they helped their children butter the aromatic and piping hot treats.
As the colonial cooks prepared to leave, PHS Vice-President George Sherman distributed scrolls containing recipes and a listing of colonial manners for them to take home to review with their families. All in all, it had been a wonderful afternoon.
=================================
Dr. Anthony Troncone Shares His 2012 Election Reflections
Visitors to the Pascack Historical Society Museum were given the opportunity on Sunday, November 11 to hear the Chairman of the Society's Historical Advisory Board share his thoughts on the outcome of the 2012 Presidential election and how it evolved. Dr. Anthony Troncone, former Chairman of the History Department at Dominican College in Orangeburg, New York, kept the assemblage enthralled as he described the circumstances which he felt had led to the re-election of President Obama. In spite of the contentious campaign that had characterized the election season, the audience enjoyed a thoughtful and stimulating discussion over homemade cakes, cookies and coffee throughout this most informative afternoon.
=================================
Historian Dan Morrison Speaks of the History of the Bayonet
On Sunday, September 30, 2012, Mr. Dan Morrison, co-founder of the Society of American Bayonet Collectors and a long-time resident of Bergen County, spoke to an audience of history enthusiasts about the origins and the history of the bayonet. Displaying a variety of bayonets he had collected over the years and sharing a dramatic reading of what it would have been like to take part in a bayonet charge during the Civil War, Mr. Morrison held the audience spellbound. During the question and answer period that followed, visitors enjoyed free coffee and cake, shared with Mr. Morrison samples of their own collections and got a close up view of items dating back to the Revolutionary War, some of which are pictured below.
To view the Society's own collection of bayonets and other military artifacts, plan on visiting us some Wednesday between 10:00 and noon or on Sunday between 1:00 and 4:00. Admission is always free!
=================================
Stones & Bones 2012 Edition – Part 1
On June 28 volunteers at the Society conducted the first of two mock archaeological digs to be held this summer in the museum's back yard. Fourteen children entering grades 2-6 in September learned about archaeologists and their work as they dug, recorded and displayed their findings in this popular 3 hour program. The second dig will be held on Thursday, August 30 between the hours of 10:00 and 1:00.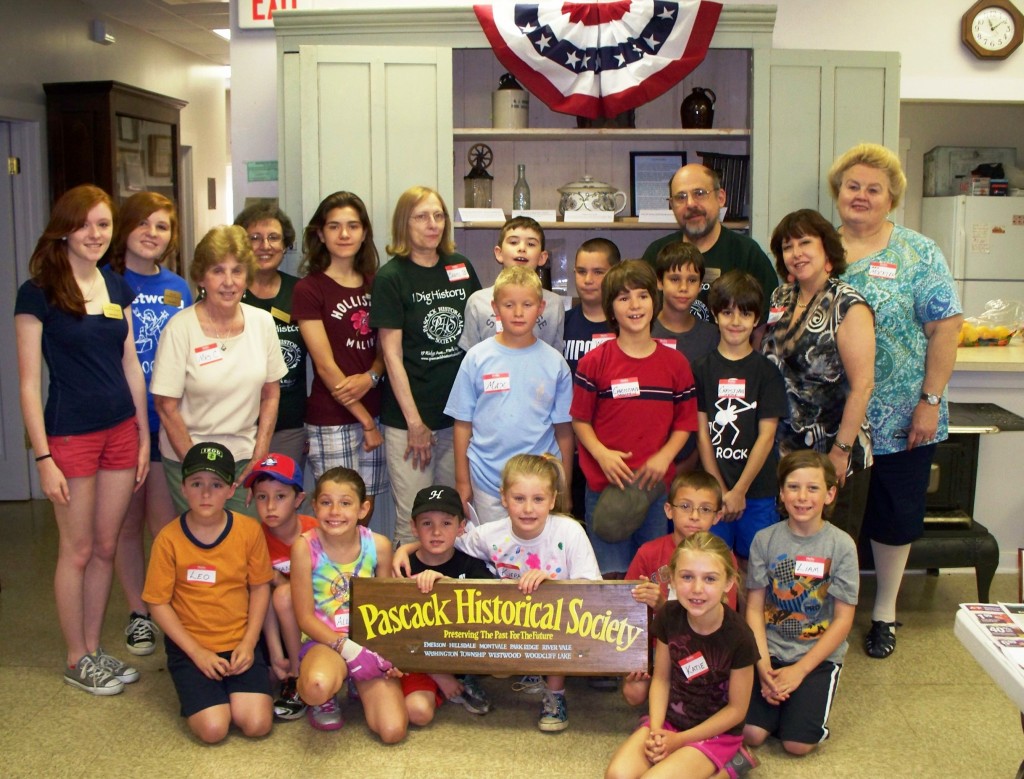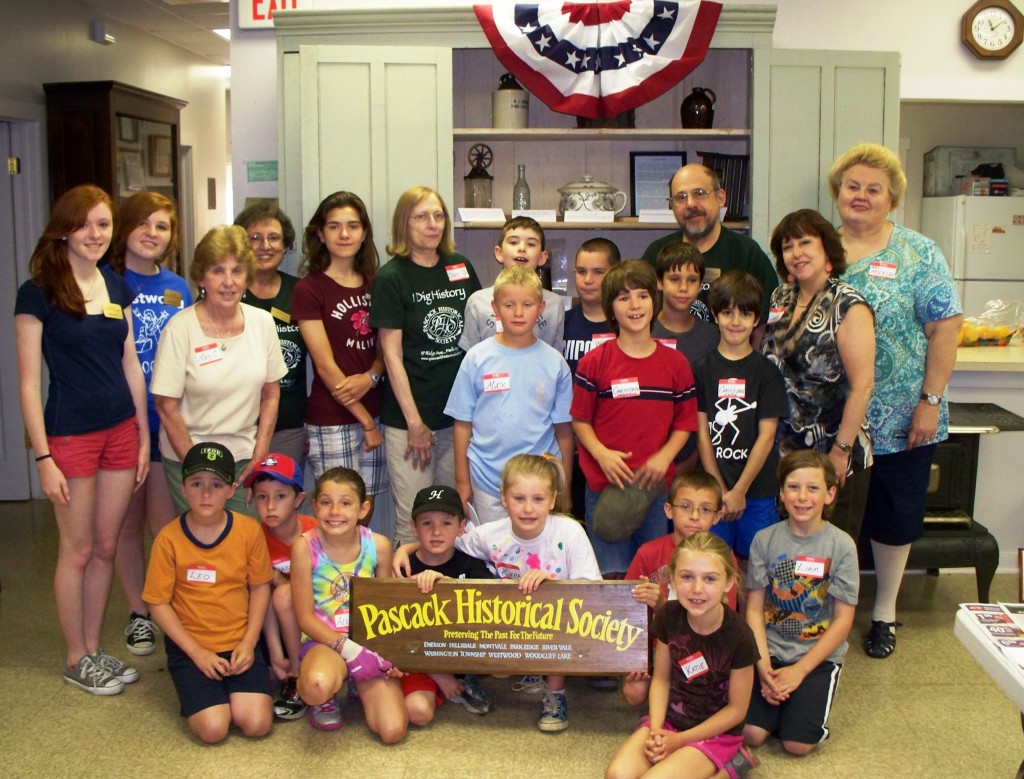 =================================
Stones & Bones 2012 Edition – Part 2
On Thursday, August 30, over 20 youngsters entering grades 2-6 next week spent an enjoyable few hours as amateur archaeologists at the Society's backyard dig-sites. Under the supervision of Society volunteers, the children learned about the work of archaeologists as they dug, recorded and displayed their findings in this ever more popular 3 hour program.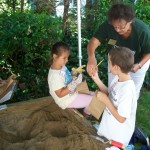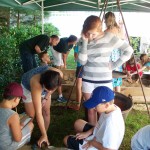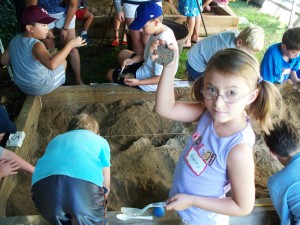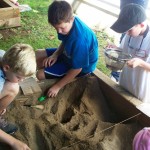 =================================
The Eagle Has Landed
Previously, visitors to the museum were able to view a wonderful life size  Lenape Indian Village scene created by Kevin Markle of Park Ridge.  For that masterful effort Kevin was granted his Eagle Scout Award. When he finished his freshman year at Virginia Tech (engineering major) and he and his parents were given a "Welcome Back" pizza party at the museum. Here, proud parents Karen and John Markle admire a patriotic sheet cake made by a society volunteer especially for the occasion.
=================================
Indispensable Intern
Recent NYU history  graduate Jason Schachter of New City, New York, is spending his Sundays at the museum this summer helping us research the "improved folding steamer chair"  patent granted to the Collignon Brothers of River Vale, NJ by Queen Victoria on June 23, 1868.  The Collignon Brothers made a specialty of folding chairs, including their famous invention- the first folding rocking chair in the United States. A number of these historical chairs are on view at our museum. Here, Jason transcribes the original English patent for our archives.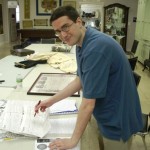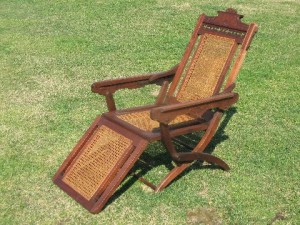 =================================
Home of the Wampum Making Campbell Family
Society Trustee Bob Mathez alerted us to this plaque on the first floor of in the medical arts building on Pascack Road in Park Ridge (across the street from the Pascack Reformed Church).  The picture below is compliments of Francesca and David Moskowitz. Clicking on the plaque will allow you to read its contents more easily.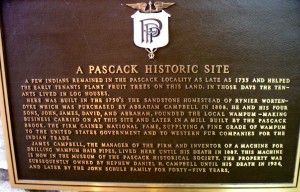 =================================
Society Trustees and Volunteers Win County Recognition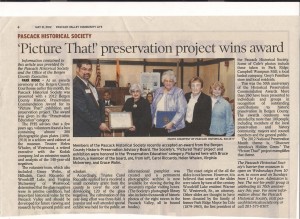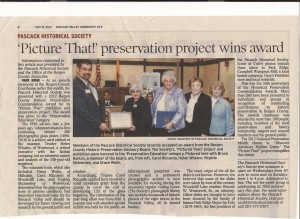 For the fifth time since 1993 the Society was the recipient of an Historic Preservation Commendation Award from Bergen County. This one, presented on May 10, 2012, was awarded for our "Picture That" exhibit which remains on permanent display in Berdais Hall at the museum.Receiving the award are (l. to r.) Past President Carol Riccardo, Trustee and Curator of the "Picture That" Exhibition Helen Whalen, Volunteer Virginia McInerney and Trustee Grace Wohn. (Click on any of the above items to see them more clearly.)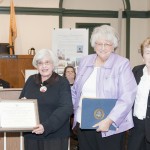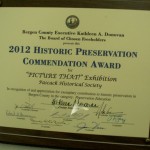 =================================
World War I Talk
Over 60 people came together in Berdais Hall at the museum on Sunday, May 20, 2012, to hear Pat Schuber give a talk on the American Entry into the Great War – World War I. Rarely have 90 minutes passed so quickly! Audience members sat enthralled as Pat vividly described the photos in his presentation along with a variety of artifacts he brought with him.