Tiger Cub's Visit
On Wednesday, November 2, 2011, Society volunteers welcomed 8 Tiger Cubs and their parents from Den 4, Pack 336 in Montvale. A fine time was had by all as they were given a tour of the museum.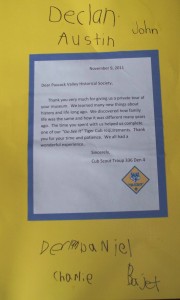 =================================
Twenty Brownies from Park Ridge came to the museum on Oct. 27, 2011 to learn of the history of Girl Scouting and life in the Pascack Valley 100 years ago.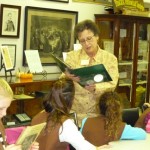 PHS Volunteer Marie Hennesey shared Girl Scout stories from years ago.