7. Masonic Temple (147 Kinderkamack Road)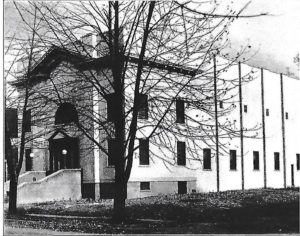 The Masonic Society has a long history in Park Ridge. The Masonic Temple is home to the Freemasons. The Freemasons are an international order established for mutual help and fellowship. The group met in three separate buildings, located on Main Street, which is known today as Pascack Road. The group was founded on February 17, 1870. Within the first year of its formation, there were fifteen regular and six special Lodge meetings. Lodge members were known for their exemplary charitable work and leadership in Park Ridge.
In March 1900, the Lodge celebrated its 30th anniversary by holding a banquet with 150 guests. It also held a charity raffle from August 17th to August 26th in 1907, in which people could buy tickets for a chance to win a car. A man who paid $1 for his ticket won this car, which, due to inflation, would cost more than $19,000 today. In 1916, the Masons created the Fellowcraft Club for social and recreational purposes with a total of 90 members. In October 1923, the Lodge organized the Welcome Chapter, No. 185, Order of the Eastern Star. The Masonic Temple has stood in one form or another in Park Ridge for close to 150 years and continues to do good works in the community.